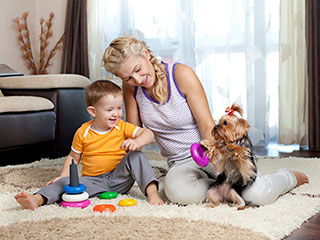 The phrase "eco friendly products" is quite a buzzword. Some carpet cleaning companies use them for marketing purposes, to attract homeowners and building managers who are keen on being environment-friendly. However, do they really make sense? Are you really getting anything in choosing eco friendly products for your cleaning needs?
Should You Go Eco Friendly?
First of all, it's worth pointing out that almost all eco friendly cleaning solutions are more expensive than the standard versions of similar products. There's that premium to pay in living the environmentally-aware lifestyle. However, it's unfair to say that there are no palpable benefits in choosing biodegradable products for cleaning carpets as well as for rug cleaning, sofa and furniture cleaning, and in cleaning upholstery. For many, the primary benefit is in the peace of mind achieved, having done something that put the environment's welfare over the mundane conveniences. A secondary benefit is enjoying the safety of using products on carpets that are safe for humans and pets.
Many of the cleaning solutions used by most commercial carpet cleaning companies contain ingredients that can contaminate underground water reserves or affect aquatic life as they flow into nearby bodies of water. The cleaning agents used for mold removal or flood damage restoration, for instance, may contain strong chemicals that drain into the ground and cause problems on plant and animal life. These products may also accumulate on the carpet's fibers over time and cause undesirable consequences on humans and pets. They can become allergens that may trigger serious health reactions. The chemicals used for mold remediation & decontamination may do more harm than the damage caused by mThe chemicals used for mold remediation & decontamination may do more harm than the damage caused by molds on carpets.
Using eco friendly or biodegradable cleaning products is highly encouraged. There may be no law or government order that can compel professional carpet cleaning service providers to limit their choices to eco friendly cleaning solutions, but it's always great to be mindful of the environment and be aware of the harms cleaning substances can bring to the environment. The difference in ordinary and ecologically friendly products for cleaning carpets isn't that big anyway.